WE CHANGE LIVES
For almost 80 years, Big Brothers Big Sisters of North & West Niagara has been making a meaningful difference in the lives of at-risk youth through our well known and highly respected mentoring programs.  For both Big and Little, the mentoring experience becomes a life-changing relationship built on friendship, empowerment, and trust.
A recent survey conducted for Big Brothers Big Sisters of Canada showed that for every dollar given to mentorship, an $18-$23 return is given to the community.  Former Little Brothers and Sisters involved in the study also generally had more positive life outcomes in terms of life skills and general well being than those who did not have a mentor.
WHICH LEADS TO BETTER FUTURES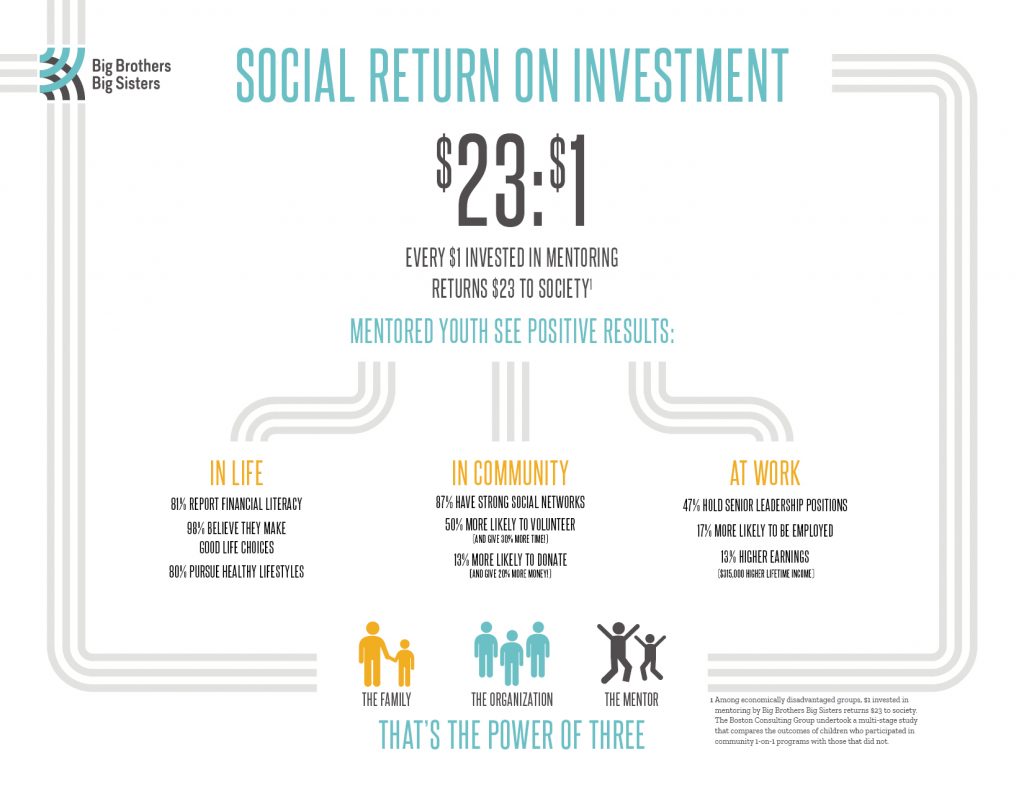 HOW DO WE DO IT?
BBBS matches young people to positive adult mentors, through individual matches or group programming.
Mentorship is a two-way, learning and development partnership where the young person's needs are placed at the centre.
Because young people's brains are still developing, mentoring can support that process through back-and-forth interaction like the volley in a good game of ping-pong.
Mentoring is an important way to give youth experience with these essential back-and-forth relationships, developing them into healthy young people better able to deal with and overcome life's adversities.
Children with mentors are more likely to graduate from high school, go to university, get full time employment and have on average higher incomes than those who do not have a mentor.  A study conducted for our agency validates the beneficial impact of our mentoring programs;
70% stated that having a mentor reduced the likelihood of the child bullying or being bullied at school
79% of children indicated that it is extremely important that they graduate from high school
92% of children surveyed indicated that they had a more positive attitude about school
89% of our volunteers feel better about themselves after volunteering
THE STEPS TO SUCCESSFUL MENTORING
RECRUIT — SCREEN — TRAIN — MATCH — SUPPORT
We have a comprehensive infrastructure for supporting mentorship partnerships: detailed legal screening of mentors to ensure safe participation; a broad network of professional staff supporting mentors and volunteers; systems for selecting, approving and supporting volunteers; referring families to agencies that provide other services if required for the mentee and their family.
We have more than 600 volunteers delivering 125,000 hours of service every year